UNDERSTANDING PERSONALITY STYLES
D   I   S   C
The Goal is to provide Leaders with tools, information, and skills to assist them in personal and professional relationships.
You may want to grab hold of the book Positive Personality Profiles, by Robert A. Rohm, Ph.D. the author of the DISC model/profile explanation. www.Amazon.com
As Leaders or Rising Leaders, it's important to be aware not only of our personality, but of the people we encounter and the people on our Team. As we coach and develop our Rising Stars, their personalities will give us insight into how we can best assist them, encourage them and even motivate them.
Here are some things that you will learn in this module:
Your Personality Type

Observable Characteristics of Personality Styles

What Are the 4 Personality Styles OR Temperaments

How to Sell by Personality Style

The Behavior Style – How to Conduct a Sponsoring Interview
(an outrageous screening vehicle to work with the right people!)

How to Appreciate Individual Differences

How Each Individual Style Manages Time

There is NO Right or Wrong Style

When You Understand the Personality Types, You Work Better and
YOUR Business Can Literally EXPOLDE!
These are Interesting Statistics:
10% of the general population are from the D profile.

25% have the I profile as their primary driving force.

30-35% has the S profile.

20-35% of the general population has a C profile.
Most sales leaders fall into the I & D profiles.
Most sales professionals are S, I or D.
Here are some key things to remember – first each of us is a unique blend of these four styles. At times, we need or choose to be totally "D" or "S" in our personality style. People make adjustments depending on the situation they are dealing with. People that are good communicators adjust their style to work with others. When we understand others and are willing to adjust we will be more effective in working as a team, building relationships, and communicating.
Understanding + willingness to adjust = effectiveness.
It won't be easy to make the change – it's a new concept – but the rewards you get from understanding others will be worth it!
Just start by observing, listening, and trying to understand where the person is coming from.
DISCOVERING YOUR BEHAVIOR STYLE
Personality Profile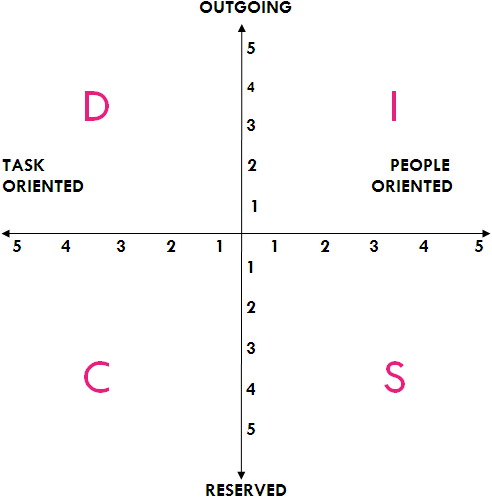 Outgoing & task oriented = D

 

Reference Book:


Positive Personality Profile


Robert A. Rohm, Ph.D.

Outgoing & people oriented = I
Reserved & people oriented = S
Reserved & task oriented = C
OBSERVABLE CHARACTERISTICS OF
PERSONALITY STYLES
Dominant

Influential

Steady

Cautious

VERBAL

Tells more than asks

Talks more than listens

Mostly verbal communication

Makes emphatic statements

Blunt and to the point

Tells stories and anecdotes

Shares personal feelings

Informal speech

Expresses opinions readily

Flexible time perspective

Digresses from conversation

Asks more than tells

Listens more than talks

Reserves opinions

Less verbal communication

Fact and task oriented

Limited sharing of feelings

More formal and proper

Focused conversation

VOCAL

Tone

Pitch

Vocal quality

Speed of voice

More vocal variety

More forceful tone

Communicates readily

High volume, faster speed

Challenging voice intonation

A great deal of inflection

More pitch variation

More variety in vocal quality

Dramatic

High volume, fast speech

Steady, warm delivery

Less forceful tone

Lower speech

Slower speech

Little inflection

Few pitch variations

Less variety in vocal quality

Steady monotone delivery

Low volume, slow speech

VISUAL

Firm handshake

Steady eye contact

Uses gestures to emphasize points

Displays impatience

Fast moving

Animated facial expressions

Much hand/body movement

Contact-oriented

Spontaneous movements

Intermittent eye contact

Gentle handshake

Exhibits patience

Slower moving

Few facial expressions

Non-contact oriented

Few gestures
CONCISE GUIDE TO THE FOUR PERSONALITY STYLES
Each group has its own value, specific strengths and unique place in the world.

Dominant

Influential

Description

Competitive
Controlling and authoritative
To the point
Risk taker and decisive

Wants

Direct answers
A Challenge
Authority & power
Bottom line results

Doesn't Want

External controls
Trivial interference

Speaking

Direct
Authoritative
Takes control
Confrontational
Tell it like it is

Listening

Likes direct, concise message
Likes innovative, problem-solving ideas
Dislikes repeated details

Description

Outgoing, empathetic
Persuasive
Enthusiastic, motivating
Organization builder

Wants

Recognition
Status
Opportunities
Favorable work environment

Doesn't Want

To be unappreciated
Rejection
Isolation

Speaking

Persuasive
Positive
Articulate
Constantly aware of others

Listening

Responds to approval
Wants recognition
Wants discussions
No insults
CAUTIOUS

STEADY

Description

Procedural
Precise
Loyal
Systematic

Wants

Structure
Accuracy
Security
Proven systems

Doesn't Want

Unjustified Criticism
High risk actions

Speaking

Conscientious
Cautious
Concerned
Detailed

Listening

Needs clearly defined direction
Wants respect & sincere praise
Prefers written guidelines and frequent updates

Description

Persistent
Dependable
Cooperative
Harmonious
Thorough

Wants

Stability
Predictability
Benefits
Consensus

Doesn't Want

Unjustified pressure
Sudden Change
Conflict
Insincerity

Speaking

Careful
Not confrontational
Patient
Tolerant
Attitude of wait and see

Listening

Time to hear details
Wants time to think it through
Needs clear goals and expectations
SELLING BY PERSONALITY STYLE
Dominant

Influential

Steady

Cautious

TARGET

Show that you've done your homework on the industry and on them personally.

Show how our product can increase their social recognition and excitement, while saving them effort.

Show how our product will stabilize, simplify and support their existing practices and relationships.

Bring logical proof that accurately documents our quality, track record and value.

CONTACT

Speak quickly with and in a businesslike manner. Focus on results, facts and the bottom line.

Speak with friendly enthusiasm about aspirations and dreams. Let them set the conversational pace.

Relax and talk warmly and informally. Focus on feelings, relationship and building trust.

Speak slowly, clearly and accurately. Explain why you are meeting them.

EXPLORE

Ask open and closed questions and focus on desired results and time limits. Provide facts about yourself while gathering information about them.

Ask open questions that explore their dreams, motivations, expectations and their "why". Work business related questions in with social questions.

Ask open questions that draw them out, especially around sensitive areas. Show tact and sincerity in probing about their work and relationship needs.

Ask open and closed questions that investigate their knowledge, systems, objectives and objections. Make your questions short and crisp.

COLLABORATE

Emphasize efficiency, profit and savings. Present quick, concise analysis of their needs and your solutions.

Emphasize uniqueness, innovation, excitement, visibility and saving effort. Style of presentation is as important as substance.

Emphasize security, harmony, steadiness and corporate benefits. Involve them by asking what they think.

Emphasize logic, accuracy, value, quality and reliability. Present obvious disadvantages.

CONFIRM

Provide options with cost benefit summary of each. Acknowledge that the final decision is theirs.

Act with assumption and promptly. Use testimonials and incentives.

Make a mutual action plan. Provide personal guidance, direction and assurance.

Provide logical options with documentation.
Give them enough time and data to analyze their options.

ASSURE

Provide reminders of your track record. Show them that you stand behind your product to deliver their results.

Save them effort and complications while making the buyer look great. Check for proper product usage.

Be sure to follow-up. Continue building your business relationship with personal attention and assistance.

Set a specific timetable for when you'll measure success. Continue proving your reliability, quality and value.
THE PERSONALITY STYLE
SPONSORING INTERVIEW SYSTEM

 A few quick questions to discover behavior style:
Tell me a little about yourself.

What do you like most about your current job and what do you like least?

Describe for me the ideal job situation for you if you could have it the way you want.

What do you need more than anything else in your life right now?

If you had what you needed, what would you want in addition to that?

At this stage of your life, what do you value more than anything else?
Dominant

Influential

Steady

Cautious

Characteristics:


Result oriented, makes decisions, controls people, power and authority, makes own rules.

Characteristics:


People oriented, loves to talk, motivational, enthusiastic, recognition oriented.

Characteristics:


Family oriented, loyal, slow to change, security minded, goes by the rules.

Characteristics:


Detail oriented, perfectionist, critical, analytical, takes time to show change.

Communication:


Short interview. Let them talk.

Communication:


Long interview, relationship building. Let them speak.

Communication:


Two-part interview, accept questions, share facts, build credibility.

Communication:


Two-part interview, share facts, build credibility.

Benefits:


Potential management, high income potential, independence.

Benefits:


Recognition, helping people, participation, awards, prizes, loves to work with people, many friends.

Benefits:


Guarantees, time with family, training, support.

Benefits:


Facts in print, financial stability, statistics, written materials to take home to spouse.

Fears:


Being taken.

Fears:


Loss of social recognition.

Fears:


Loss of security.

Fears:


Criticism of work.

Questions:


"What past management experience have you had?" "What qualities do you have that will make you eligible for leadership?"

Questions:


"Can you see yourself having an impact on people and changing lives?" "Would you enjoy traveling and winning awards?"

Questions:


"Would you be able to work a system where you have a road map?" "Are you a consistent worker?"

Questions:


"If you have a step by step plan, and answers to your questions…?"
APPRECIATING INDIVIDUAL PERSONALITY STYLE DIFFERENCES
Dominant

Influential

Steady

Cautious

How each style assists

Offers unsolicited advise

Gives prescriptions

Insists on utilization

"Here's what I'd do if I were you."

Listens with empathy

Helps person come up with own answers

"What do you want?"

Likes to be asked

Non-directive

Makes self available

Encourages and admires

"I'm here if you need me."

Offers informative and practical advise

Provides structures

Analyzes problems step by step

"Here are the pros and cons."

How each style controls

Takes charge and initiates

Uses authority

Uses direct control

Tells what should be done

Uses finesse and humor

Keeps harmony by not revealing position

Pleases and mediates

Sets high standards for others

Makes others dependent on help

Does what is right and provides best

Uses structures, agenda and methods

Maintains organizational controls

Documents position and present evidence

How each style analyzes

Examines "bottom line" impact

Selects data to support own position

Prefers quick study

Examines data for social implications

Solicits analysis of others

Accepts new and conflicting data

Seeks open-ended exploration

Compares against ideal model

Examines for quality

Tests for relevancy

Prefers step by step method

Wants whole in detail

Wants to find the practical payoff

Organizes data to examine alternatives

How each style compromises

Barters competitively

Provides separate areas of autonomy

Likes hard bargaining

Responds to urgency and opportunity

Gives in order to receive

Keeps action going

Gets others to initiate, then adapts

Seeks integrated win-win outcome

Demands consistency with principles

Responds to needs of others

Seeks integrated solution

Wants correct outcome

Responds to logic and data

Goes along little by little

Uses rules of order

Agrees after thorough exploration
HOW PERSONALITY STYLES MANAGE TIME
Dominant

Influential

Steady

Cautious

STRENGTHS

Covering many tasks

Generating many approaches

Driven to complete projects

Trying new things; sense of optimism

Resolving conflicts

Finding ways around difficulty

Working with others

Helping and assuring

Doing what is relevant and best

Seeking excellence

Analyzing and getting facts

In depth study of problems

Methodical and systematic

WEAKNESSES

Doing too much at the same time

Everything is urgent

Acting impulsively

Waiting for others to lead

Always open to change

Overly flexible

Saying yes to too many people

Trying for perfection

Overly analytical

Being too cautious

Minimizing risks

TIME WASTERS

Putting out fires

Jumping from task to task

Projects at various stages of completion

Abrupt change in direction

No visible plans

Rescuing everyone else

Critical of self and others

Feeling depressed over unfulfilled expectations

Need to over organize office and inventory

Continuing discussion at meetings

Holding up for more information

FEAR

Losing an opportunity

Not appearing competent

Loss of approval

Too much disagreement

Missing a chance to be helpful

Not being able to do your very best

Not understanding the situation

Not being comprehensive and complete

ADJUSTMENTS

GET FOCUSED

Key in on a few tasks – "This is the thing to do now."

GO FIRST

Stay with it – "Here's what I think should be done."

SET LIMITS

Closed door policy – "Here's what I need."

GET GOING

Think and do – "Here's what I am going to do."